THE VILLAGE WINS MAPIC AWARD FOR BEST OUTLET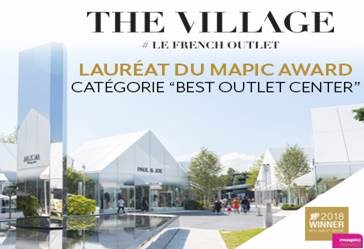 Freeport is delighted to announce that The Village, Villefontaine has won Best Outlet at the prestigious MAPIC awards. Amongst a high quality short list of four, The Village emerged as the best outlet.
In partnership with Compagnie de Phalsbourg, the innovative design has already proved a huge hit with customers and brands like Polo Ralph Lauren, Nike, Levis, Zadig and Voltaire, Furla and a host of other leading brands. Freeport Chief Executive, Iestyn Roberts said: "It's been a long road since Freeport first looked at this project. However we have always believed that this is an outstanding location with huge potential. Thanks to the vision and expertise of our partner, Compagnie de Phalsbourg, and the hard work of the Freeport team, that potential isnow being realised." "It is already the second outlet centre in France and we think there's a great deal more to come. New retailers are opening regularly and our customer base is expanding fast."
The Village opened on 17th May 2018 and is situated on the A43 between Lyon and Grenoble.